Life In Chicago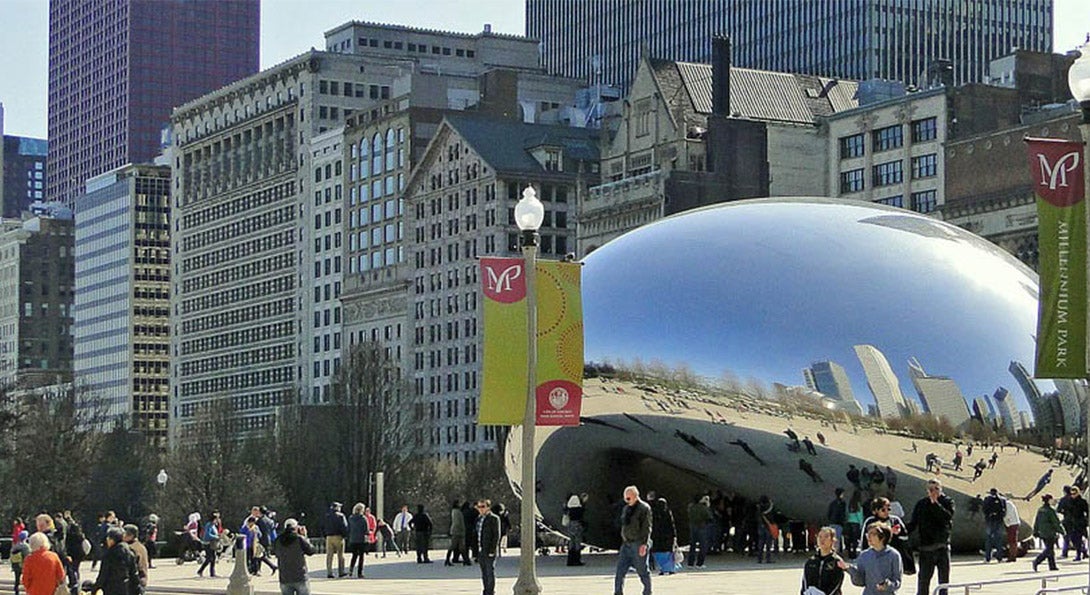 You may choose UIC for the research and your educational goals, but Chicago will become a wonderful experience that will last a lifetime. Included on this page is information about the campus, attractions, housing, and restaurants. Please see the appropriate section for whichever information you need.
Chicago is a large metropolis that has a population of approximately three million people from every ethnic background and from all walks of life. Chicago is a commercial and cultural center that provides a wide variety of business services and opportunities for recreation. It is home to several museums, including the Museum of Science & Industry, the Field Museum , the Planetarium, the Shedd Aquarium, and the Art Institute of Chicago. We enjoy a four-season climate that is tempered by beautiful Lake Michigan . During the summer months, temperatures typically range between 60 degrees and 95 degrees Fahrenheit. During the winter months, temperatures in Fahrenheit range from 35 degrees above zero to 10 degrees below zero. Precipitation is frequently in the form of snow or sleet (icy rain). It is vital that you either bring warm clothing for the winter months, or be prepared to purchase it once you arrive. Chicago winters cannot be ignored, however, they can be an invigorating and enjoyable experience with the appropriate preparation.If you are looking to connect with the graduate students currently enrolled at UIC, please visit the Chemistry Graduate Student Association website.
Neighborhood
Chicago is the third most populated city in the USA. Due to its population the city and suburbs span a sizable area and this makes it confusing when trying to pick the best area to live. Make sure to consider affordability and commute time when deciding which neighborhood to live in. It is highly recommended to spend the first year in Chicago with an easy commute to campus either walking, biking or a short bus ride. After this time you may find a neighborhood you prefer more, but due to the size of the city it is not advised to try and find your favorite place within a single weekend visit.
There are many terrific neighborhoods within walking distance and plenty of students and faculty choose to stay in the immediate area. The best way to choose is to search around using websites like Padmapper or Zillow. Craigslist can also be a good resource.
At the bottom of this page is a link to a map of the city. This map shows different areas of the city as walking distance (less than 30 minutes), 1 Hour Bus, 1 Hour CTA. Anything highlighted is a recommended section of the city to stay in for these modes of travel. The further from the campus, the longer the commute.  Keep in mind that the travel times may be significantly impacted by snow during the winter.
After living in Chicago for a while you will find that there are too many nice neighborhoods to list. We would love to recommend one area of the city to live in, but it would be unfair to any of the other great neighborhoods. Do some research and google searches of any neighborhood that strikes your fancy.
The University provides additional information about housing opportunities, including on campus housing.
Graduate Housing
Single Student Rates (Be sure to view the Single Student Rate section, not the others)
Graduate room floorplans and pictures
Off Campus Housing Listings. Also look here, and here.
Campus Maps
Full size maps of the Campus with clickable links and information Here
East side campus map (PDF)
The two Main Chemistry Buildings are SEL and SES.
Hotels
Hotels are expensive here, but we recommend the ones listed below. We also recommend visitors to check AirBnB if they are feeling adventurous.
Best Western Grant Park
Crown Plaza
Restaurants
If you have not visited Chicago before, prepare to be amazed at the dining experience the city has to offer. There are literally hundreds of excellent places to eat.  Chicago currently host 24 Michelin star restaurants. The city is also known for its Pizza and Hot Dog scene. Here are a few restaurants that we love.
Lou Malnati's
Sweet Maple Diner
Eleven City Diner
Umai Japanese Kitchen and Sushi
Ramen-San
Moxee BBQ and Cajun
Tuscanny
Giordano's
Chicago
There are many great things to do in Chicago. Here is a list of things to see during your stay. Some free, some offer academic discounts, some have regular admission.
Grant Park - This is the large park that stretches from the top to the bottom of the water front. Ariel view
Cloud Gate - This is the large "bean" in the middle of Grant Park. Picture
Chicago Field Museum - Great museum with many great limited time displays. Be sure to check what is currently on display for your visit.
The Art Institute - Currently displaying lots of work from Andy Worhol and Van Gogh.
Adler Planetarium - A great Planetarium, and also a great view of the skyline, I recommend this for a sunset walk.
There are too many attractions to list, but these are a few within walking distance of downtown that offer great views of the city.
Please click here for an animated map of the city.  The areas that are colored in this link are examples of commuting distance of 1 hour. Snow and other weather can add a significant time to your commute so please take that into consideration.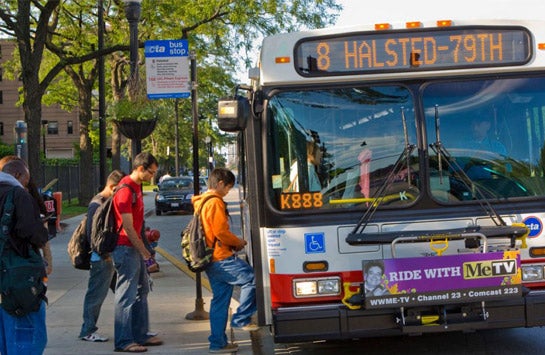 Getting around the city is easy thanks to Chicago's extensive and beautiful public transit system. Below are links to the CTA, and taxi services common in the area. You should plan on getting more information before arriving to the city as Chicago has multiple airports.
The CTA provides train and bus service to all areas you would need. There are trains to and from both airports, and terminals at each airport to purchase the Ventra Card which is used on the trains and buses. The Ventra card is a recyclable, reusable transit card that you tap on a reader to access buses or enter into train stations.
Taxis, Lyft, and Uber are also readily available when needed.