UIC Connect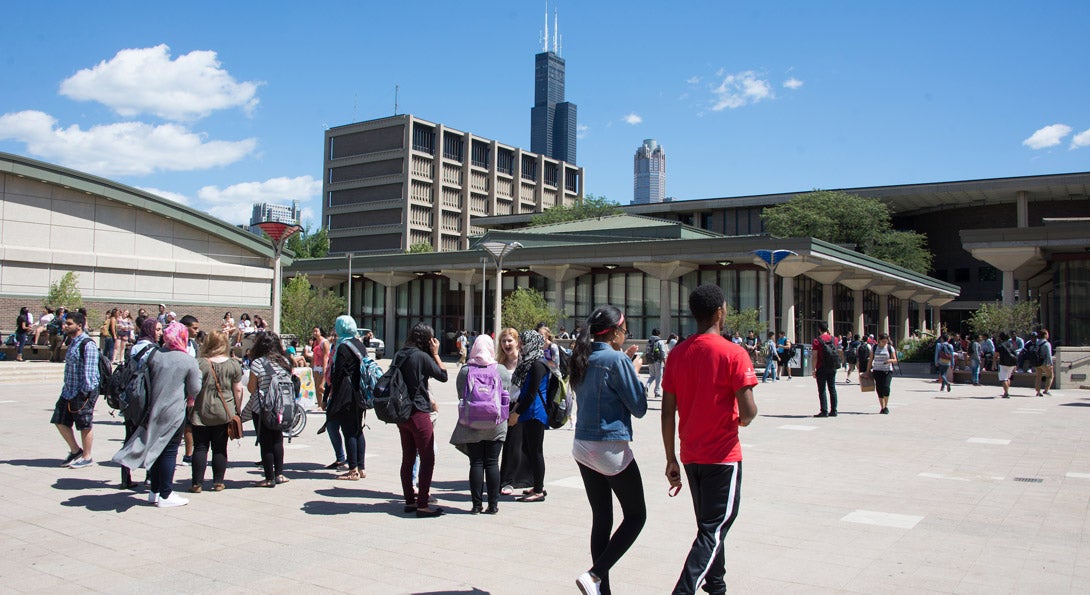 Welcome to the Department of Chemistry at the University of Illinois at Chicago! We are delighted that you have decided to join our graduate program and we offer the following information to help you prepare for the great adventure of obtaining your graduate degree in chemistry -- a step that, as it develops, will impact the rest of your life.
Orientation
The Department of Chemistry at UIC sponsors a formal, mandatory orientation program for one week prior to the beginning of the Fall semester. International students are asked to arrive at UIC earlier in order to check in at the Office of International Services and to take UIC's English SPEAK test. Primary matters that are addressed in our departmental Orientation program are placement testing; advising; registration; a laboratory safety presentation; an introduction to teaching both laboratory and discussion sections; model sessions for teaching techniques, preparation, and laboratory techniques; a discussion of our graduate program requirements; employment processing for teaching assistants; and specialized presentations by UIC's Office of International Services, the Graduate College, and UIC's Teaching Assistant program. We will send a complete orientation schedule along with more specific orientation information to you as soon as we have that information available.
Placement Tests
All of our entering graduate students are required to take placement tests, which are administered at the beginning of the Orientation program in the Fall Semester. They are standardized tests in a multiple-choice format in the areas of biochemistry, analytical, inorganic, organic, and physical chemistry. Students are required to pass three of the five exams, with some variation depending on degree sought. We urge you to review your undergraduate chemistry course work in order to prepare for the placement tests.
Advising
Based on your performance in the placement tests and your past academic history, the Graduate Admissions & Advising Committee will advise you on course selection. Following advising you will register for classes. (Although you will receive registration information either with your official admission letter or by e-mail from the Office of Admissions and Records, register only during orientation.) The advising and orientation process continues in several forms throughout the year. All incoming students are required to register for and participate in Chem. 500, an Introduction to Research in the Chemistry Department, in the early part of the Fall. Students are then required to interview with the faculty about their individual research groups (a process that we call "routing") and to choose a group to join before December. Consultation with the Director of Graduate Studies (DGS) about the selection of a research group and advising about future course work is also scheduled in the Fall. These may be the most important decisions of your first semester.
Selection of your Advisor
Your research advisor will be chosen from among the faculty members who have active research groups and who are accepting new students. The process is one of mutual consent, and you will be expected to begin your research in the Spring semester. Your research advisor (in collaboration with the Director of Graduate Studies) will also be responsible for further advising you regarding course work, independent study and carrying out your thesis research in a manner that complements your research project and fulfills the requirements of our graduate program.
Registration
Registration for continuing students, including changes to any existing registration, begins several weeks before the end of the previous term and continues through the first official ten days of the new term (first official five days for summer session). During the registration period, all registration activity is done by the student using Student Self-Service. Because you will be registering for the first time as a new graduate student, you will first need to establish your NetID and Enterprise ID. We will send you information regarding this process and step-by-step instructions during orientation. When attempting to register in subsequent semesters, if you receive an error message directly pertaining to the class or section you are requesting, consult with the department. An override may be needed to allow you to continue to register. Once the override has been added you still have to register for the course in Student Self-Service. If you receive an error message that you do not understand, consult the Registration Help Line at (312) 996-8600.
i-Card
The i-Card is the official identification card of the University for students, staff and faculty. It is important to obtain the i-Card and carry it with you at all times. The i-Card is needed to enter certain labs and buildings, for access to certain student-related events and services, to ride on the campus shuttle busses, and to check material out of the library. Once you have registered you may obtain your i-Card. Time has been set aside during our departmental orientation for this purpose. You will need to bring a print-out of your registration and either a driver's license, state ID card, or passport to the i-Card Office. The i-Card office on the east side of campus is located in the Student Services Building at 1200 West Harrison , Room 1790. Complete i-Card information is available at http://www.icard.uillinois.edu.
Medical Immunization Requirement
Illinois state law requires proof of certain immunizations for students in most situations. The policy and contact information are available at the Office of Medical Immunization Records. It is important that you read this information carefully as registration for future terms is not allowed if you are not in compliance at that time.
Tuition and Fees
Tuition and fees are set by the Board of Trustees of the University of Illinois . The tuition and fee schedule at UIC is fairly elaborate so it is important to understand what your charges will be, as well as your payment obligations. (Note: Most Chemistry graduate students have a T&F waiver, typically as part of their TA award, but this does provide not complete freedom from fees. See below for TAs.) This information is available from the Office of Admissions and Records website.
Teaching Assistantships
All teaching assistantships and research assistantships are automatically accompanied by a tuition and fee waiver, which waives the tuition, the service fee, tuition differentials for graduate students, the health service fee, and the Academic Facilities Maintenance Fund Assessment fee. However, graduate students who receive an assistantship are responsible for paying the general fee, the student-to-student fee, the health insurance fee, and the CTA U-Pass transportation fee. If you have been granted an assistantship there are a number of important steps that have to be undertaken to ensure timely processing and receipt of your first stipend check. * You will receive a formal letter which confirms the offer of assistantship support from the Department of Chemistry. This letter is in addition to the initial offer letter that was mailed to you in response to your graduate application. * After you have accepted and returned the formal letter of offer for the assistantship, the Department will complete the necessary information in the university database. * When the Department completes the previous step, it will trigger an e-mail to you regarding details and log-on information for an online system called NESSIE. * In NESSIE, you will need to complete the HR Application, a Statement of a Drug-Free Workplace, an I-9 form, and Payroll information (demographic, educational, and direct-deposit bank information). However, we ask that you wait to do this with the help of Chemistry Department staff after your arrival during orientation. * For international students on a visa, the Department of Chemistry will send appropriate information to the Office of International Services to initiate an Employee Clearance form. In the past we have subsequently arranged for all of our new international students to go to the Office of International Services as a group before the beginning of our departmental orientation in order to check in and complete the I-9 forms. We expect to follow the same procedure in the future. * The processing for international students on a visa allows less flexibility in regards to the start date, so it is important to complete the necessary steps according to our departmental orientation schedule. It is only after all these stages have been successfully completed that your appointment becomes official and allows you to begin your duties and receive your stipend, which is paid on the 16th of each month. In addition, it is only at this stage that the tuition waiver is available to be applied to your account, assuming you have also correctly registered for the total hours required to receive the waiver. Please note that although the Graduate College has established minimum registration hours to be eligible for a tuition waiver, the Department of Chemistry exceeds this requirement and asks that all graduate students in our program register for 16 credit hours each semester. (These total hours do include credit for developing a research program.) If there is any delay in the initial processing of your appointment or in accomplishing the steps outlined above, for whatever reason, your first monthly stipend check may be delayed. Although you will receive your entire stipend, even if delayed, not having the first check can cause financial difficulties for you. Therefore, if you do not receive timely responses you should contact the Department of Chemistry to ensure procedures have not been overlooked. See the Graduate College website for additional assistantship information.
Teaching Assistant Responsibilities
As stated in our initial offer letter, most first-year students assist in teaching the introductory chemistry courses. These specific appointments require a total of eight contact hours of laboratory and quiz instruction per week, plus grading of laboratory work and examinations, and tutoring (2 hours per week) in the Science Learning Center in lieu of office hours. Alternatively, some students may be assigned duties in more advanced courses with somewhat different requirements. Teaching assistants are expected to meet their assigned classes at the scheduled time and place with a suitable plan of activities. In case of illness or another emergency, teaching assistants are expected to contact the office of the Department of Chemistry and the faculty member in charge of the course to assure that instruction goes on. Learning to teach, much like learning to do research, is a process much like an apprenticeship. You will consult regularly with the faulty member in charge of the overall course, typically in weekly TA meetings. You may sometimes do lab preps to ready new experiments or you may sometimes work through particular experiments or discussion sessions that the Lecturer feels need additional work. Your progress in the assignment and your future assignments will depend on an evaluation by the lecturer and in some cases by the Director of Undergraduate Studies or the General Chemistry Coordinator and the senior TA assigned to the course. Similarly, your participation in the Science Learning Center (TA office hours) may be monitored by its Director.
Graduate Handbook
We ask that you take the time to review the contents of our Graduate Student Handbook to familiarize yourself with important topics such as our degree and course requirements, cumulative examination information, safety requirements, departmental seminars, and review other miscellaneous but equally significant information.
Housing
Because having a place to live when you arrive in Chicago is a primary concern that is important to your security and comfort, we would like to call your attention to housing options on and off campus for your consideration. Please access http://www.housing.uic.edu (click on "Single Student Residence") for on-campus housing information. For off-campus housing information, please go to http://www.housing.uic.edu/offcampus. The I.D. is "ocean", and the password is "shore". (Be sure to select the "student" button before entering the I.D. and password.) The cost of living in Chicago is very dependent on lifestyle. We recommend that students bring $2,000 to $3,000 for initial expenses such as rent/apartment security deposit, books, food, transportation, etc.
Arriving at UIC
O'Hare International Airport and Midway Airport are the two main airports that service the Chicago area. The CTA (Chicago Transit Authority) Rapid Transit Blue Line train can be taken from O'Hare Airport directly to UIC's campus (UIC/ Halsted stop) . No transfer would be needed. A ride on the Orange Line will take you from Midway Airport to downtown Chicago where you can transfer to the Blue Line. The next option is to take a taxi. This method of travel may be preferable for those of you who will be traveling with heavy luggage. A taxicab from O'Hare Airport to UIC costs approximately $45 including a tip for the driver. From Midway Airport the cost would be slightly less.
About Chicago
Chicago is a large metropolis that has a population of approximately three million people from every ethnic background and from all walks of life. Chicago is a commercial and cultural center that provides a wide variety of business services and opportunities for recreation. It is home to several museums, including the Museum of Science & Industry, the Field Museum , the Planetarium, the Shedd Aquarium, and the Art Institute of Chicago. We enjoy a four-season climate that is tempered by beautiful Lake Michigan . During the summer months, temperatures typically range between 60 degrees and 95 degrees Fahrenheit. During the winter months, temperatures in Fahrenheit range from 35 degrees above zero to 10 degrees below zero. Precipitation is frequently in the form of snow or sleet (icy rain). It is vital that you either bring warm clothing for the winter months, or be prepared to purchase it once you arrive. Chicago winters cannot be ignored, however, they can be an invigorating and enjoyable experience with the appropriate preparation.
WE LOOK FORWARD TO YOUR ARRIVAL!