U of I System assisting state in COVID-19 response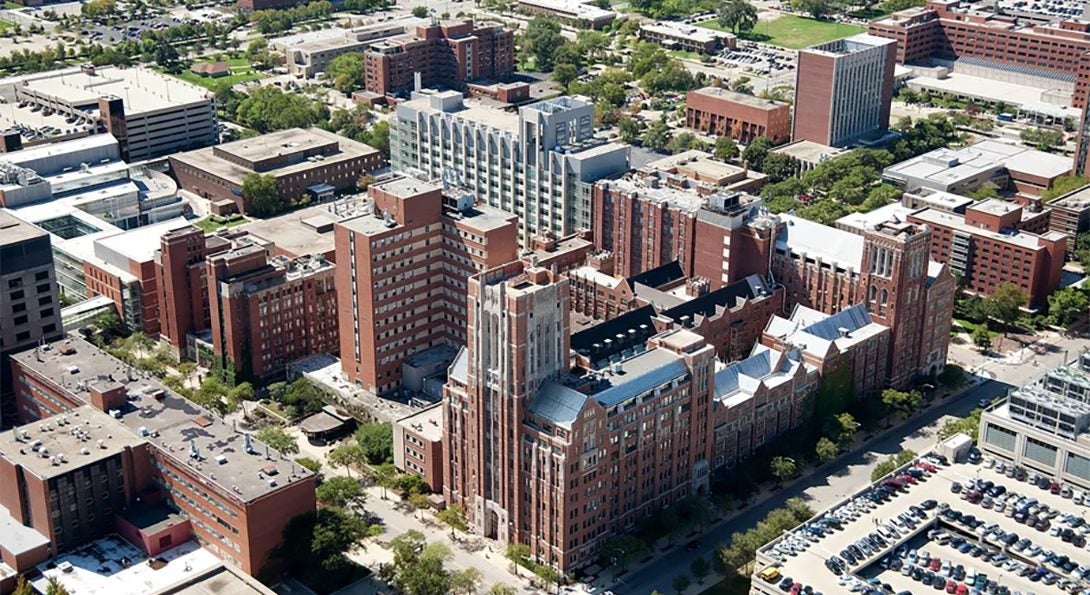 The University of Illinois System is sharing expertise and resources from across its three universities and healthcare enterprise to support the state's efforts to address the COVID-19 pandemic.
President Tim Killeen said the university system's contributions include being chosen as a clinical trial site for a  possible new COVID-19 treatment, helping accelerate testing, producing hand sanitizer to ease shortages, and leading-edge analysis to inform state leaders on the spread of the virus and gauge its economic impact.
"The people of our state are facing an unprecedented challenge, one that is disrupting their lives and clouding the future," Killeen said. "Their state's flagship university system is here to help in any way possible, sharing its world-class resources to put this crisis behind us."
Gov. J.B. Pritzker has said the U of I System is playing a key role in guiding the state's response to the crisis and its continued planning to stem the outbreak.
Assistance by the U of I System includes:
Treatments – The University of Illinois at Chicago (UIC) has been selected as a clinical trial site for a nationwide National Institutes of Health study of a potential COVID-19 treatment. The phase 3 trial will evaluate the safety and effectiveness of an investigational anti-viral drug, called Remdesivir, in hospitalized adults diagnosed with COVID-19. UIC investigators will study the drug to see if it provides clinical benefits to patients, compared to a placebo. The trial was activated at UIC on Wednesday.
Testing – The University of Illinois Hospital in Chicago implemented COVID-19 testing on Monday, with capacity for 800 tests and results within six to seven hours. The University of Illinois at Urbana-Champaign has provided equipment, supplies and personnel from its laboratories to facilitate testing at Carle Foundation Hospital in Urbana, which serves central and downstate Illinois.
Technical expertise – Experts from across the system are providing up-to-date research to help guide the Illinois Department of Public Health (IDPH) and the governor's office. Under an agreement with IDPH, UIC is providing its world-class expertise on the control of infectious diseases, emergency preparedness and public health. Urbana-Champaign researchers provided epidemiological models developed in collaboration with Rush University and other institutions that showed how heightened social distancing can slow the transmission of the virus and prevent a shortage of intensive-care unit beds in Illinois. Gov. Pritzker cited the models as a factor in his decision to invoke a statewide stay-at-home order. UIC public health experts have also produced estimated numbers of total cases and projected models of tests needed to keep pace with new cases.
Economic impact – The system's Institute of Government and Public Affairs (IGPA) has assembled a team of more than three dozen faculty experts from all three universities who will report on the pandemic's impact on the state's economy, fiscal condition, community resilience and healthcare professionals. IGPA was created by the state to mobilize the U of I System's vast faculty talent and generate the research and analysis that drives thoughtful and effective public policy.
A designer at the UIC Engineering MakerSpace produces face shields to supply to the University of Illinois Hospital.
Supplies/equipment – Urbana-Champaign's Integrated Bioprocessing Research Laboratory is fabricating and packaging hand sanitizers at industrial scale to help ease shortfalls. Scholars at both UIC and Urbana-Champaign are collaborating across their campuses in the design and fabrication of personal protective equipment (PPE), and are considering innovative ways to sterilize gently used PPE for safe re-use to address shortfalls in the state's healthcare system. Members of the Illinois Innovation Network (IIN) also shared the availability of testing equipment, materials and PPE items from their institutions that could be supplied to healthcare organizations across the state.
Data analytics – The National Science Foundation (NSF) has asked Urbana's National Center for Supercomputing Applications (NCSA) to partner with the Centers for Disease Control and Prevention (CDC) in data analytics efforts. The NSF XSEDE project at NCSA is taking the lead on coordinating high-performance computing time at federally sponsored academic centers across the nation to prioritize and fast-track data analysis initiatives that include hastening development of new vaccines and anti-viral treatments.
Communications – Administrative Information Technology Services (AITS), the U of I System's IT solutions unit for more than 100,000 students, faculty and staff, will help the governor's office develop and deploy web-based sites to support communications and data to foster public understanding.
In February, Killeen appointed a system-wide planning and response team to guide best practices involving the COVID-19 outbreak and ensure communication and information-sharing across the system. It is led by Dr. Robert Barish, UIC's vice chancellor for health affairs, who oversees the U of I Hospital and Clinics, the federally qualified Mile Square Health Center network, and the seven academic health sciences colleges at UIC – including one of the nation's largest medical schools. Members of the team include top leadership from the system and universities, and leading healthcare experts.
Modified on November 13, 2021