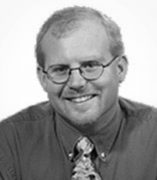 Scott Shippy
Associate Professor
Contact
Address:
5417 SES, MC 111
Office Phone:
Email:
Related Sites:
About
The long term goal of our research is to develop new analytical instrumentation and methods for monitoring the processes of neurochemical signaling in the tissues of the central nervous system. This interdisciplinary research requires the design, construction and evaluation of new in vivo chemical sampling devices in addition to separation and/or detection devices. One current effort is focused on the use and improvement of low-flow push-pull perfusion sampling (LFPS) to collect neurotransmitters and neuropeptides from spatially specific nervous tissue regions; see Figure 1 below. The LFPS system is used in the rat brain (lateral hypothalamus) to study glutamatergic feeding-related signaling; at the outer surface of the retina to study amino acid changes related to diabetic retinopathy; and with a mouse model with a nonfunctional glutamate-cystine exchange protein allele. Many different neurochemical or metabolic chemical changes are studied including: amino acids, biogenic amines, neuropeptides, nitric oxide metabolites, ascorbate, and proteins. The analysis tools used for these studies include: capillary electrophoresis, microfluidics and mass spectrometry.
To improve chemical sampling of the central nervous system chemical composition will need to be defined in ever smaller tissue regions. A second current focus of the lab is the collection and analysis of volume-limited samples. The fruit fly (drosophila melanogaster) is a very common transgenic model used in the study of biological systems and disease. The exceedingly small size of the organism has largely precluded careful chemical analysis of individual flies and components of flies. Recent work in our lab has been focused on collecting and analyzing nanoliter volumes of hemolymph (blood) from individual fly larvae and adults; see Figure 2. Another volume-limited system under study is the tear film. Tears bathe the primary ocular surface of the eye, the cornea, playing roles in protection and circulation for this avascular tissue. The chemical composition of the tear film changes with dry eye syndrome and may be involved in corneal tissue damage. The availability of submicroliter to nanoliter volumes demands novel sample handling and the development of efficient chemical analysis methods.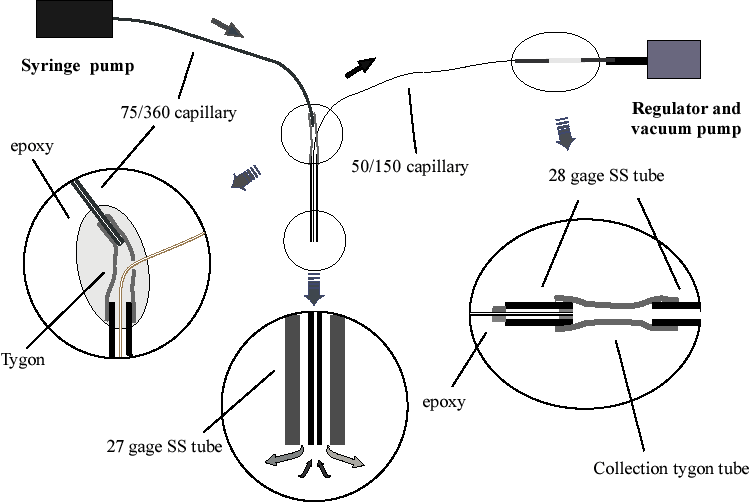 Schematic of a push-pull perfusion brain sampling probe.

TOP A schematic representation of the collection of hemolymph from an individual fruit fly larva. A pin, shown in purple, is used to puncture the larva and leaking hemolymph is collected via vacuum. BOTTOM A photograph of a third instar stage fruit fly larva and the collection tubing. Scale marks are 1-mm.
Selected Publications
Hemolymph Amino Acid Variations Following Behavioral and Genetic Changes in Individual Drosophila Larvae. Piyankarage, S.; Augustin, H.; Featherstone, D.; Shippy, S. Amino Acids 2010, 38, 779-788.
High Temporal Resolution Coupling of Low-Flow Push-Pull Perfusion to Capillary Electrophoresis for Ascorbate Analysis At the Rat Vitreoretinal Interface. Patterson, E. N.; Pritchett, J.; Shippy, S. A. Analyst 2009, 134, 401-406.
Measurement of Region-Specific Nitrate Levels of the Posterior Chamber of the Rat Eye Using Low-Flow Push-Pull Perfusion. Pritchett, J.; Pulido, J.; Shippy, S. Anal. Chem. 2008, 80, 5342-5349.
Feeding Specific Glutamate Surge in the Rat Lateral Hypothalamus Revealed By Low-Flow Push-Pull Perfusion. Thongkhao-On, K.; Wirtshafter, D.; Shippy, S. A. Pharmacol. Biochem. Behav. 2008, 89, 591-597.
Amino-Acid Levels in Subretinal and Vitreous Fluid of Patients With Retinal Detachment. Bertram, K.; Bula, D.; Pulido, J.; Shippy, S.; Gautam, S.; Lu, M. J.; Hatfield, R.; Kim, J. H.; Quirk, M.; Arroyo, J. Eye 2008, 22, 582-589.
Hemolymph Amino Acid Analysis of Individual Drosophila Larvae. Piyankarage, S.; Augustin, H.; Grosjean, Y.; Featherstone, D.; Shippy, S. Anal. Chem. 2008, 80, 1201-1207.
Demonstration and Use of Nanoliter Sampling of in Vivo Rat Vitreous and Vitreoretinal Interface. Kottegoda, S.; Pulido, J.; Thongkhao-On, K.; Shippy, S. Mol. Vis. 2007, 13, 2073-2082.
Education
B.S. (Cum Laude), Hope College, 1992
PhD, University of Illinois at Urbana-Champaign 1997
Postdoctoral Fellow, University of Ottawa (Canada), 1997-1999