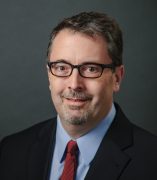 Paul R Carlier
Professor of Pharmaceutical Sciences
Professor of Chemistry
Director, UICentre, UIC's campus-wide drug discovery enterprise
Contact
Building & Room:
833 S. Wood St., 479 PHARM
Fax:
Email:
Related Sites:
About
Malaria is a scourge in the developing world, affecting 200 million people and killing nearly 450,000 annually. To treat this infected population,  new antimalarial drugs are urgently needed. As such, we are taking a two-pronged strategy to reduce malaria transmission and mortality. Firstly, new antimalarial drugs are urgently needed to treat drug-resistant malaria. Under NIH support, we are working with Prof. Cassera (Univ. Georgia), and Dr. Totrov (Molsoft LLC) to develop a new classes of antimalarial drugs that engage new biological targets in the parasite. A second NIH-funded project with Prof. Mike Klemba (Virginia Tech) aims to determine the biological target of mefloquine (MQ), a currently used preventative antimalarial. We have prepared taggable photoaffinity probes based on MQ and are using them to carry out chemoproteomic studies.
Antibiotic-resistant bacteria also pose a great threat to public health in the developed world.  We are working with researchers at Virginia Tech to identify new antibiotics to treat infections of multi-drug-resistant Neisseria gonorrhoeae.
As Director of UICentre, Professor Carlier also oversees a number of other drug-discovery projects.
Selected Publications
"Enantiopure benzofuran-2-carboxamides of 1-aryltetrahydro-β-carbolines are potent antimalarials in vitro" Hanan Almolhim, Sha Ding, Joshua H. Butler, Emily K. Bremers,Grant J. Butschek, Carla Slebodnick, Emilio F. Merino, Zaira Rizopoulos, Max Totrov, Maria B. Cassera, Paul R. Carlier*, ACS Medicinal Chemistry Letters 2022, 13, 371-376. PMID: 35300082, PMCID: PMC8919387. DOI: 1021/acsmedchemlett.1c00697
"Malaria Box-inspired discovery of N-aminoalkyl-β-carboline-3-carboxamides, a novel orally-active class of antimalarials" Jopaul Mathew, Sha Ding, Kevin Kunz, Emily E. Stacy, Joshua H. Butler, Reagan S. Haney, Emilio F. Merino, Grant J. Butschek, Zaira Rizopoulous, Max Totrov, Maria B. Cassera, Paul R. Carlier*, ACS Medicinal Chemistry Letters 2022, 13, 365-370. PMID: 3530009, PMCID: PMC8919280. DOI: 1021/acsmedchemlett.1c00663
"Dimeric Tacrine(10)-hupyridone as a Multitarget-Directed Ligand to Treat Alzheimer's Disease" Zhenquan Xuan, Xinmei Gu, Sicheng Yan, Yanfei Xie, Yiying Zhou, Hui Zhang, Haibo Jin, Shengquan Hu, Marvin S. H. Mak, Dongsheng Zhou, Karl Wah Keung Tsim, Paul R. Carlier, Yifan Han*, Wei Cui*, ACS Chem. Neurosci.2021, 12, 2462–2477. PMID: 34156230. DOI: org/10.1021/acschemneuro.1c00182
"Probing the B- and C-Rings of Antimalarial tetrahydro-β-carboline MMV008138 for Steric Demand, and Conformational Constraints", Sha Ding, Maryam Ghavami, Joshua H. Butler, Emilio F. Merino, Carla Slebodnick, Maria B. Cassera, Paul R. Carlier*, Bioorganic & Medicinal Chemistry Letters 2020, 30, 127520. PMID:32898696. DOI: 1016/j.bmcl.2020.127520
Education
• A.B. (Summa Cum Laude, Chemistry) 1983, Hamilton College (Robin Kinnel, advisor)
• Ph.D. (Organic Chemistry) 1988, Massachusetts Institute of Technology (K. Barry Sharpless, advisor)