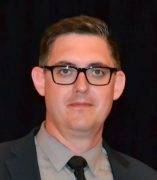 Duncan Wardrop
Associate Professor
Contact
Address:
4446 SES, MC 111
Office Phone:
Email:
Related Sites:
Work in the Wardrop laboratory is focused on organic chemistry and specifically, on the development of new strategies and methods for the efficient synthesis of highly functionalized natural products and compounds with useful pharmacological properties. Current areas of interest include the chemistry of electron-deficient, divalent reactive intermediates, including nitrenium ions and alkylidenecarbenes and also the development of antiviral agents for the prophylaxis of haemorrhagic fevers, such as that caused by the Ebola virus. With regards to the latter project, we have recently discovered a potent, selective inhibitor of this highly pathogenic virus, which blocks its entry into human cell lines. Work is now underway, in collaboration with the UIC Department of Microbiology to elucidate the mode of action of this important molecule.
Current synthetic targets in the Wardrop lab include, the toxic alkaloids australine and broussonetine G, the unusual marine natural product, schulzeine A and catharanthine, a component of the anti-tumor drugs, vinblastine and vincristine. Recently discovered in the Wardrop, compound EEI-37 displays potent in-vitro activity against the Ebola virus and, as such, represents one the few known inhibitors of this human pathogen.
Selected Publications
1. Intramolecular Oxamidation of Unsaturated O-Alkyl Hydroxamates: A Remarkably Versatile Entry to Hydroxy Lactams Wardrop, D. J.; Bowen, E. G.; Forslund, R. E.; Sussman, A. D.; Weerasekera, S. L. J. Am. Chem. Soc. 2009, 131, 1188 (Featured Cover Article).
2. Reduction of Solid-Supported Olefins and Alkynes Dickson, D. P.; Toh, C.; Lunda, M.; Yermolina, M. V.; Wardrop, D. J.; Landrie, C. L. J. Org. Chem. 2009, 74, 9535.
3. Total Synthesis of the Alpha-Glucosidase Inhibitors Schulzeine A, B, and C and a Structural Revision of Schulzeine A. Bowen, E.; Wardrop, D. J. J. Am. Chem. Soc. 2009, 131, 6062.
4. Total Synthesis of Agelastatin A, a Potent Inhibitor of Osteopontin-Mediated Neoplastic Transformations. Dickson, D.; Wardrop, D. J. Org. Lett. 2009, 11, 1341.
5. Total Synthesis of Magnofargesin. Wardrop, D.; Fritz, J. Org. Lett. 2006, 8, 3659.
Education
B.Sc. (Hons., 1st Class), Glasgow University, 1991
Ph.D., Glasgow University, 1994
Postdoctoral Research Associate, Oregon State University, 1995-1997