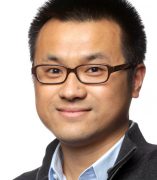 Ying Hu
Assistant Professor
Contact
Address:
2210A SELW, MC 111
Office Phone:
Email:
Related Sites:

The Hu group specializes in single-molecule and super-resolution imaging. The research develops fluorescence imaging techniques to study the subcellular processes of immune cells. The multidisciplinary research combines single-molecule and super-resolution microscopy, nanotechnology, computational modeling, and T cell biology.
 Novel optics, probes, and algorithms for next-generation super-resolution imaging
Super-resolution imaging reveals nanoscale biological structures with a spatial resolution of 10 to 20 nanometers. We take an interdisciplinary approach to advance super-resolution techniques toward quantitative, functional, and deep-tissue imaging.
 Decoding signaling and function in space and time
The compartmentalization and dynamics of biomolecules contain "fingerprint information" about the cellular state and function. Our research extracts image-derived biological information to understand membrane-associated signaling in T cells and antibody functions.
 Nano-bio interactions
Engineered nanocarriers enable targeted intracellular delivery of functional materials. We utilize bioconjugated nanoparticles and single-particle tracking to monitor and modulate intracellular processes, one molecule at a time.
Selected Publications
H Gunasekara, R Munaweera, YS Hu, Chaotropic perturbation of noncovalent interactions of the hemagglutinin tag monoclonal antibody fragment enables superresolution molecular census, ACS Nano, 2021. PMID: 34797055 Link
B Saed, R Munaweera, J Anderson, W O'Neill, YS Hu, Rapid statistical discrimination of fluorescence images of T cell receptors on immobilizing surfaces with different coating conditions, Sci. Rep., 2021. PMID: 34326382 Link
H Jing, M Pálmai, B Saed, A George, PT Snee, YS Hu, Cytosolic delivery of membrane-penetrating QDs into T cell lymphocytes: implications in immunotherapy and drug delivery, Nanoscale, 2021. PMID: 33688882 Link
R Munaweera and YS Hu, Computational characterizations of the interactions between the pontacyl violet 6R and exoribonuclease as a potential drug target against SARS-CoV-2, Front. Chem., 2021. PMID: 33553109 Link
NA Szydlowski, H Jing, M Alqashmi, YS Hu, Cell phone digital microscopy using an oil droplet, Biomed. Opt. Express, 11(5), 2328-2338, 2020. PMID: 32499926 Link
YS Hu, H Cang, and B Lillemeier, Super-resolution imaging reveals nanometer- and micrometer-scale spatial distributions of T cell receptors in lymph nodes, PNAS, 113(26), 2016. PMCID: PMC4932922 Link
YS Hu, Q Zhu, K Elkins, K Tse, Y Li, J Fitzpatrick, IM Verma, H Cang, Light-sheet Bayesian microscopy enables deep-cell super-resolution imaging of heterochromatin in live human embryonic cells, Opt. Nanoscopy, 2(7), 2013. PMID: 27795878 Link
YS Hu, X Nan, P Sengupta, J Lippincott-Schwartz, H Cang, Accelerating 3B single-molecule super-resolution microscopy with cloud computing, Nat. Methods, 10(2), 2013. PMID: 23361087 Link
YS Hu, SJ Noelck, RA Drezek, Symmetry breaking in gold-silica-gold multilayer nanoshells, ACS Nano, 4(3), 2010. PMID: 20146507 Link
YS Hu, J Jeon, TJ Seok, S Lee, JH Hafner, RA Drezek, H Choo, Enhanced Raman scattering from nanoparticle-decorated nanocone substrates: a practical approach to harness in-plane excitations, ACS Nano, 4(10), 2010. PMID: 20836500 Link
Education
BS (summa cum laude), University of Houston, 2006
PhD, Rice University, 2011
Postdoctoral Scholar, California Institute of Technology, 2011-2012
Research Associate, Salk Institute for Biological Studies, 2012-2018