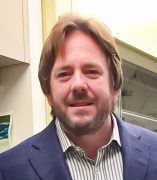 Preston Snee
Associate Professor
Chemistry
Contact
Office Phone:
Email:
CV Download:
Related Sites:
Selected Publications
1) "Whole Specimen Analysis of Lead Chalcogenide Nanostructure Morphologies: Implications for Alternative Energy Generation" Kim, E.-B., Snee, P. T. ACS Appl. Nano Mater., 2021, 4, 10, 10006–10010asap.Link
2) "Cytosolic delivery of membrane-penetrating QDs into T cell lymphocytes: implications in immunotherapy and drug delivery" Jing, H.; Pálmai, M.; Saed, B.; George, A.; Snee, P. T.; Hu, Y. S. Nanoscale, 2021, 13, 5519-5529. Link
3) "Sterically Encumbered Tris(trialkylsilyl) Phosphine Precursors for Quantum Dot Synthesis" Chandrasiri, H. B.; Kim, E.; Snee, P. T. Inorg. Chem. 2020, 21, 15928–15935. Link
4) "The Role of Colloidal Stability and Charge in Functionalization of Aqueous Quantum Dots" Snee, P. T., Accounts of Chemical Research, 2018, 51, 2949–2956. Link
5) "Charge Carriers Modulate the Bonding of Semiconductor Dopant Nanoparticles as Revealed by Time-resolved X-ray Absorption Spectroscopy" Hassan, A.; Zhang, X.; Liu, X.; Rowland, C. E.; Jawaid, A. M.; Chattopadhyay, S.; Gulec, A.; Shamirian, A.; Zuo, X.; Klie, R. F.; Schaller, R. D.; Snee, P. T. ACS Nano. 2017, 11, 10070-10076. Link
6) "Ratiometric QD-FRET Sensing of Aqueous H2S in vitro" Shamirian, A.; Samareh Afsari, H. ; Wu, D.; Miller, L. W.; Snee, P. T., Anal. Chem. 2016, 88, 6050–6056. Link
7) "Ratiometric CdSe/ZnS Nanocrystal Protein Sensor" Tyrakowski, C. M.; Snee, P. T. Anal. Chem. 2014, 86, 2380-2386. Link
8) "Cluster-Seeded Synthesis of Doped CdSe:Cu4 Quantum Dots" Jawaid, A. M.; Chattopadhyay, S.; Wink, D. J.; Page, L. E.; Snee, P. T. ACS Nano, 2013, 7, 3190–3197. Link
9) "Poly(ethylene glycol) Carbodiimide Coupling Reagents for the Biological and Chemical Functionalization of Water Soluble Nanoparticles" Shen, H.; Jawaid, A. M.; Snee, P. T. ACS Nano, 2009, 3, 915-923. Link
10) "Imparting Nanoparticle Function with Size-Controlled Amphiphilic Polymers" Chen, Y.; Thakar, R.; Snee, P. T. J. Am. Chem. Soc., 2008, 130, 3744-3745. Link
Education
B.S., The University of North Carolina at Chapel Hill (advisor: Edward T. Samulski), 1995
Ph.D., The University of California at Berkeley (advisor: Charles B. Harris), 2002
Postdoctoral Fellow, Massachusetts Institute of Technology, (advisors: Moungi Bawendi and Dan Nocera), 2003-2006.
Masters in Business Administration, Liautaud School of Business, UIC, 2016-2021.