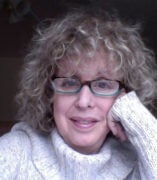 Nava Segev
UIC Distinguished Professor
Biochemistry and Molecular Genetics with a courtesy appointment in Chemistry
Contact
Building & Room:
Molecular Biology Research Building Room 2256
Address:
900 South Ashland Avenue, Chicago, IL 60607
Office Phone:
Email:
Regulation of Intracellular Trafficking by Molecular Switches and Cascades
Our research is aimed at understanding a basic cellular process, trafficking inside cells, in which proteins and membranes are shuttled between cellular organelles. This process is required for proper functioning of all cells, and therefore for every system of the human body. Elucidation of the mechanisms that regulate trafficking inside cells is relevant to a variety of diseases caused by impaired transport of substances that are either essential, such as insulin in diabetes, growth-factor receptors in cancer and CFTR in cystic fibrosis, or detrimental, such as -amyloid in Alzheimer's disease.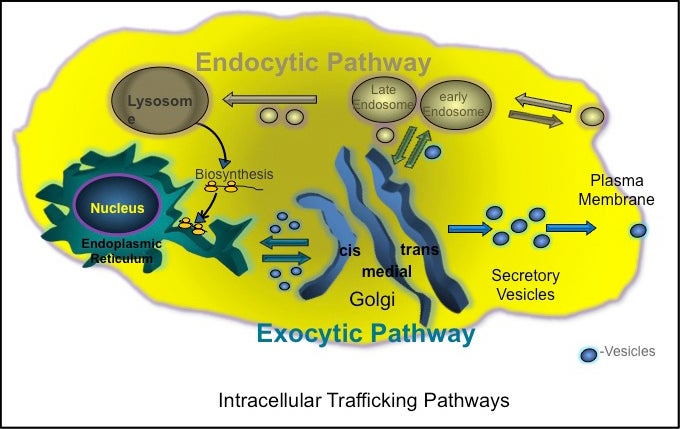 The conserved molecular switches Ypt (in yeast) and Rab (in humans) GTPases have emerged as key regulators of individual transport steps. They are activated by guanine-nucleotide exchange factors (GEFs), and when in the active form, they interact with downstream effectors that mediate vesicular transport. Our long-term goal is to elucidate how Ypt/Rab GTPases together with their GEFs and effectors coordinate multiple transport steps and pathways.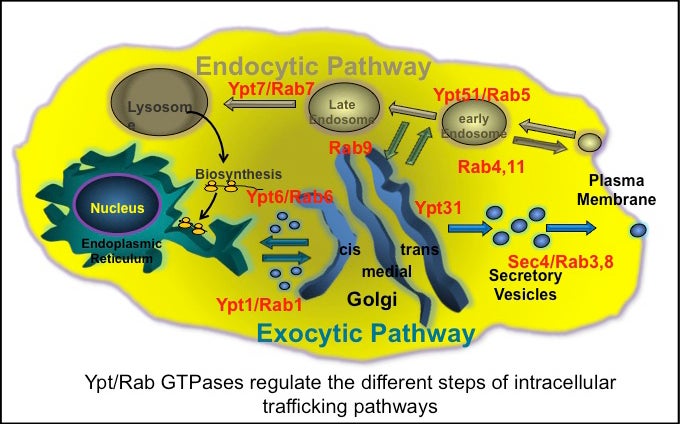 To address these complicated issues, we are using yeast as a model because it allows utilizing sophisticated genetic approaches in combination with molecular and cellular methods. Furthermore, the relatively small number of players (e.g., 11 Ypts in yeast versus ~70 Rabs in humans) and the resultant simplified interaction networks make yeast an excellent model for studying the coordination of transport steps. Currently, we are studying the role of Ypt GTPases in secretion and in the cellular recycling pathway autophagy.
Selected Publications
Lipatova, Z. Gyurkovska, V., Zhao, SF., and Segev, N.  (2020)  "Characterization of Constitutive ER-phagy of Excess Membrane Proteins". PLOS Genetics, 2020 Dec 4;16(12):e1009255. doi: 10.1371/journal.pgen.1009255. eCollection 2020 Dec.
Lipatova, Z., Van Bergen, NJ, Stanga, D., Sacher, M., Christodoulou J., and Segev, N.  (2020) TRAPPing a neurological disorder: from yeast to humans.  Autophagy Mar 2. doi: 10.1080/15548627.2020.1736873. [Epub ahead of print] PMID: 32116085
Segev, N. (2020) ESCARTing the proteasome to the lysosome.  (Perspective) PLOS Genetics 2020 Mar 19;16(3):e1008631. doi: 10.1371/journal.pgen.1008631. eCollection 2020 Mar.
Van Bergen NJ, Guo Y, Al-Deri N, Lipatova Z, Stanga D, Zhao S, Murtazina, R, Gyurkovska V, Pehlivan D, Mitani T, Gezdirici A, Antony J, Collins F, Willis MJH, Coban Akdemir ZH, Liu P, Punetha J, Hunter JV, Jhangiani SN, Fatih JM, Rosenfeld JA, Posey JE, Gibbs RA, Karaca E, Massey S, Ranasinghe TG, Sleiman P, Troedson C, Lupski JR, Sacher M, Segev N*, Hakonarson H, Christodoulou J. (2020) Deficiencies in vesicular transport mediated TRAPPC4 are associated with severe syndromic intellectual disability.  Brain. 2020 Jan 1;143(1):112-130. doi: 10.1093/brain/awz374.  PMID: 31794024 (*Segev, co-corresponding author)
Lipatova and Segev, N.  (2019) Ypt/Rab GTPases and their TRAPP GEFs at the Golgi.  FEBS Letters 2019 Sep;593(17):2488-2500. doi: 10.1002/1873-3468
Zhou F, Wu Z, Zhao M, Murtazina R, Cai J, Zhang A, Li R, Sun D, Li W, Zhao L, Li Q, Zhu J, Cong X, Zhou Y, Xie Z, Gyurkovska V, Li L, Huang X, Xue Y, Chen L, Xu H, Xu H, Liang Y, Segev N. (2019) Rab5-dependent autophagosome closure by ESCRT.  Journal of Cell Biology (published online 4/22/19) Vol. 218 (6); 1908-1927
Education
PhD, Tel Aviv University, Israel
Postdoctoral Research MIT, Cambridge MA (Advisor: David Botstein)